Hot Off The Presses Funny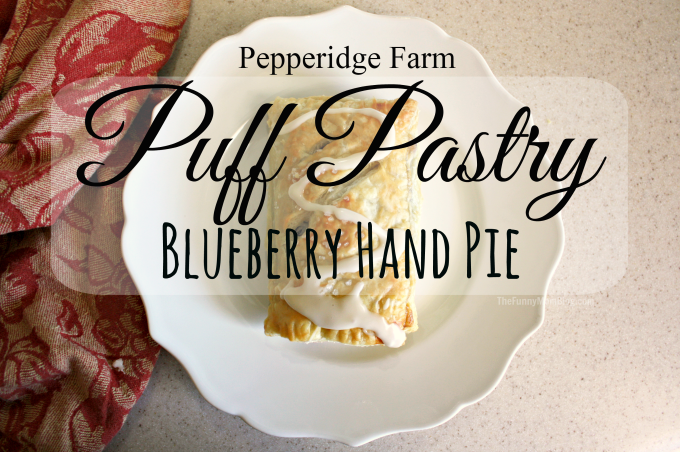 Recently, the littlest of my kids and I attended a "Home-Gating" party in San Diego with a few other really fantastic bloggers for a Pepperidge Farm puff pastry football-food-ganza (and yes really, there is no other way to describe the delicious event). Hosted by Pepperidge Farm, at the event were what seemed like thousands of entertaining food options all made with Pepperidge Farm puff pastry. From sweets to savory and even breakfast it was delightful tasting all of the different flavor combinations. My favorite had to be the Pepperdige Farm calzone, made with cheese, sauce, pepperoni and of course – puff pastry.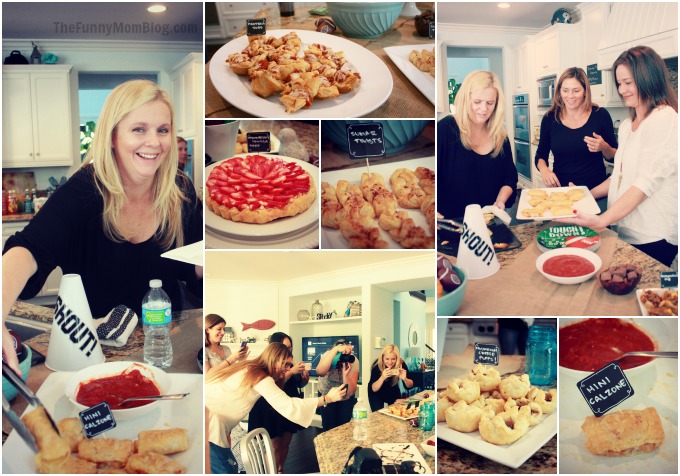 Tiffany Romero of the SITS girls remarked how nice it was to have a blogger home event because as bloggers, we have a tendency to isolate ourselves and create recipes alone in our kitchens but at home event such as this one, we have the opportunity to socialize with one another and bounce ideas off one another as well. I could not have related more to this statement, I had been working feverishly from the confines of my home. This fabulous event hosted by Theresa Hissong Seid and Stefanie Mullen was a wonderful example of all that puff pastry can do and it even inspired me to come home and create my own Pepperidge Farm puff pastry recipe for Blueberry Hand Pies.
Truth be told, I'm not much of a sweets fan, however, there are few things in life I find more satisfying than a really good pastry. The combination of tasty, flaky bread with just a hint of sweet is heaven on earth to me. By using such a versatile ingredient such as Pepperidge Farm puff pastry, you can bring to life your own unique and impressive dish that guests will love for any occasion. Just like at our "Home-Gating" party, Pepperidge Farm Puff Pastry is the perfect ingredient to make flaky savory dishes like calzones all the way to dreamy cheese, sausage and egg breakfast cups. Pepperidge Farm Puff Pastry is made with the same basic ingredients as pie pastry, but the dough is folded multiple times to create layers. When baked, steam makes the layers rise about 8 times higher…and that my friends, is golden, flaky perfection.
How To Make Blueberry Hand Pies
Ingredients:
1 2 sheet package Pepperidge Farm puff pastry (thawed)
12 ounces frozen blueberries
1/4 cup frozen whole, pitted cherries
1/2 cup sugar
1 teaspoon pure vanilla extract
Pinch of salt
1 1/2 Tablespoons cornstarch
1 1/2 Tablespoons cold water
Flour (for dusting)
1 large egg white
1 teaspoon raw sugar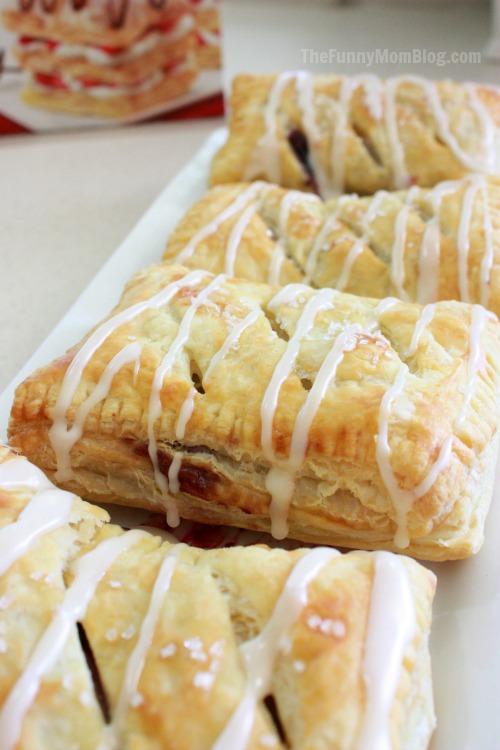 Directions:
Stir cornstarch and cold water in a small bowl to blend
Combine frozen blueberries, frozen cherries, sugar, salt and vanilla extract in large saucepan
Cook over medium heat, stirring occasionally, until fruit juices are released
Add cornstarch mixture; bring to a boil, stirring often
Remove from heat and let cool to room temperature, stirring occasionally
Roll out pastry on a lightly floured surface. Using a sharp knife, cut dough in half – creating 6 large rectangles
Whisk egg white and 1 tablespoon water in another small bowl for egg wash
Working with 1 pastry rectangle at a time, place on a work surface and brush edges with egg wash
Scoop 2 large spoonfuls (more fruit than juice) blueberry/cherry mixture onto one side – fold dough over
Press edges down with your fingers carefully
Crimp edges with a fork to seal
Using a sharp knife cut a few diagonal slits on top of pie to vent
Place on parchment paper lined baking sheet
Preheat oven to 375°F
Brush tops with egg wash
Sprinkle with raw sugar
Chill in refrigerator for 30 minutes
Bake pastries until tops and bottoms are golden brown, 30-40 minutes
Let cool for 10 minutes on baking sheet
Enjoy!
Step-by-Step in Pictures

How To Make Powdered Sugar Icing
For an extra special treat, pair your blueberry and cherry hand pie with sweet homemade icing. It's decadent and delicious!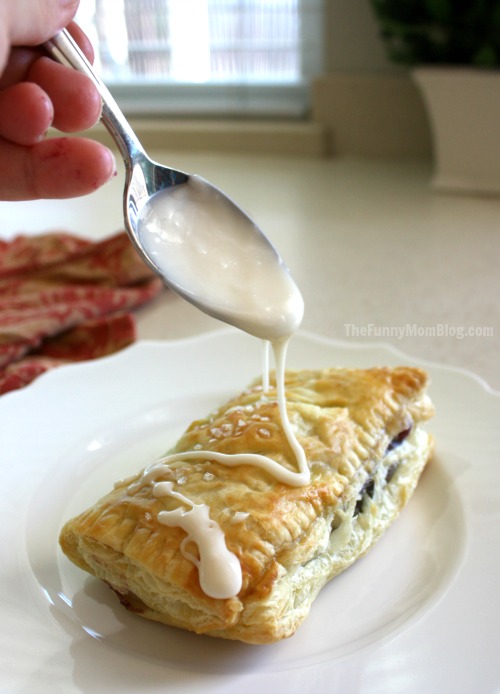 Ingredients: 
1 cup Powdered Sugar
1/2 teaspoon pure vanilla extract
1-2 Tablespoons water
Directions: 
Mix together in a small bowl until icing is spreadable
Icing will thicken as it sets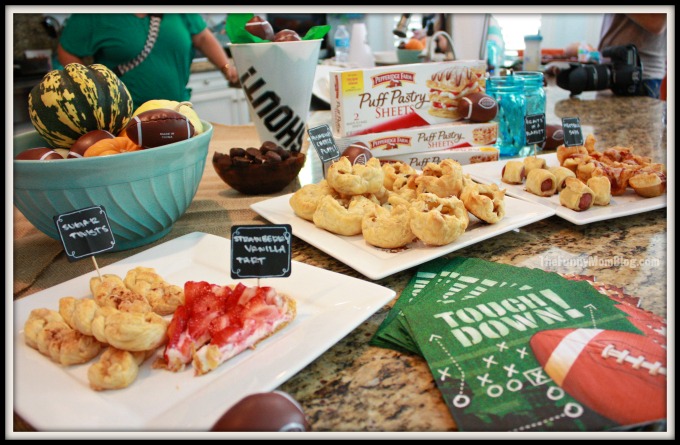 Pepperidge Farm Puff Pastry can be found in the freezer isle of grocery stores nationwide.
Pepperidge Farm Puff Pastry Sheets MSRP – $4.95.
Pepperidge Farm Puff Pastry Cups MSRP – $3.88.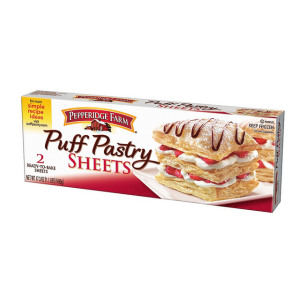 What would you make with puff pastry?
This is a sponsored post written by me on behalf of the Pepperidge Farm Puff Pastry.
Read More Funny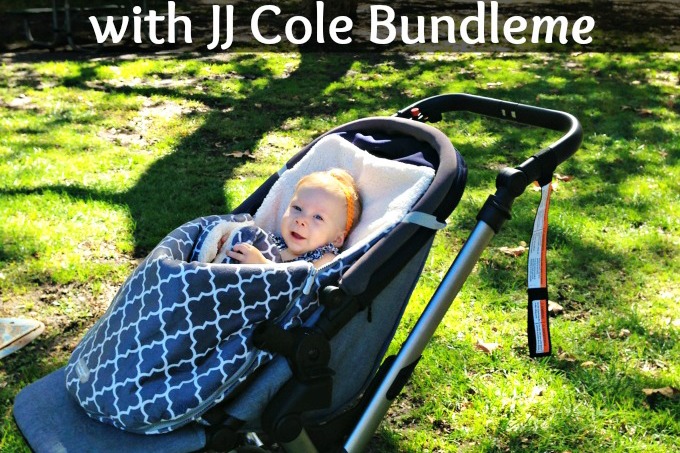 This is a sponsored post. All opinions are my own. It's Fall In So Cal The weather is just about to turn cooler here in So Cal (and by "cooler" I mean less than the summer sultry 105 degree's we've had over the last few months) and that means pants, coats and warm, cozy blankets….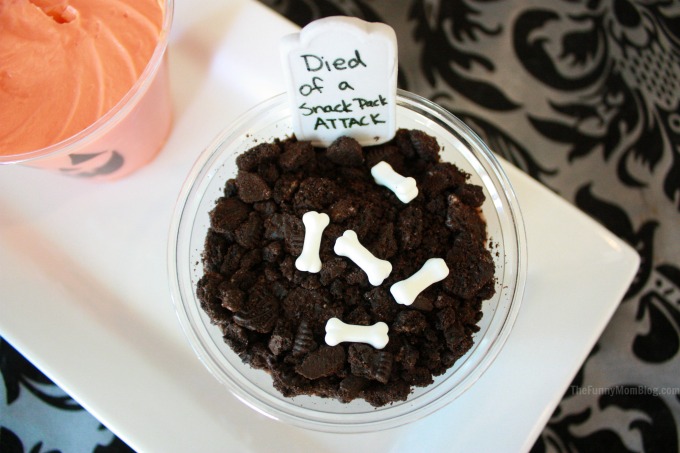 This shop has been compensated by #CollectiveBias, Inc. and its advertiser. All opinions are mine alone. I love surprising my kids with super fun after school snacks. When ever there is a holiday coming up soon, I like making them holiday themed treats. Halloween is the perfect holiday for getting really creative in the kitchen….
Every now and then I like sharing The Funny Mom Blog archive posts with you. My original blog, Sarcastic Funny and Brutally Honest (funnymommy.blogspot.com) morphed, split and changed into what this blog is today so it's only fair to shed some light on the budding dorkery that it once was. This post, which was originally…